Our Location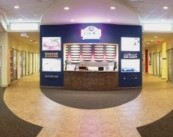 For our clients who live with or are preparing for the challenges of a caregiver role, our offices at One Senior Place add much value to our financial planning services. 
One Senior Place is an award-winning resource center for caregivers and their loved ones.  Participating business owners here are some of our communities most respected professionals, and include:
CPA's / tax preparers

Assisted living placement agencies

Realtors

Audiologist / hearing care center

In home caregiver services

Alzheimer and Dementia association

Travel services

Estate planning and elder law attorneys

Hospice care

…and much more
The monthly calendar is packed with free educational presentations and seminars, and seasonal events.   Unique resource centers on site include the Living Options Showroom, Memory Resource Center, and Senior Resource Library.
Our on-site training center and auditorium enables us to provide a comfortable, consistent setting for client education and events.  Knowing where you need to be is one less thing to worry about.
We never stray from what we do best – financial and long-term care planning.  However, having a trusted advisor on hand when you're navigating unfamiliar territory can make quite a difference.  Your financial plan is the foundation of most major decisions, and we are here to help you keep your ship on course.